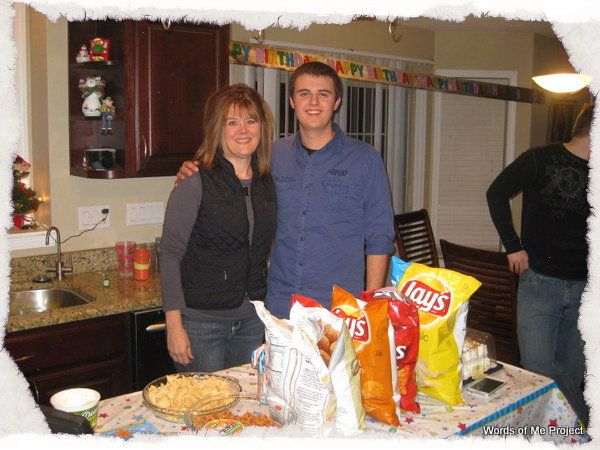 Me and Jacks-December 28, 2012
Having fun playing around with Photo Bucket and figuring it all out:) This is a pic of my now
18 year
old son
on the night of his SURPRISE PARTY!! Oh what fun we had!! And guess what?!?!??
He was surprised!!!
My sweet son was born at approx. 10:18 PM December 27th, 1994. I had no idea what I was in for that night. All the joys, struggles, frustrations, laughter, silliness, heartaches and blessings. Jacks has given them all to me and then some-lol!!
Weeks before his big day, Jackson kept on bugging us about a surprise party. He would say things like..."I just know you guys would never, ever give me a surprise party!" Dave, Em and I would just smile and shake our heads. We had been planning his party all along.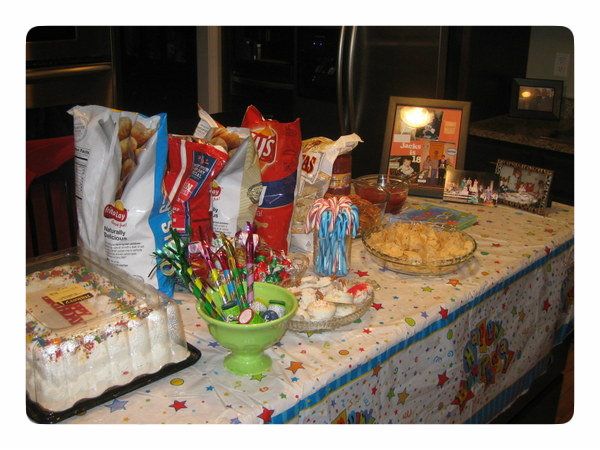 The party table
My Jackson Boy...I love you!
Jacks graduates on Mother's Day this year and just found out he was accepted to Northwest Missouri State University right here in Maryville. He is such a hometown boy...he wants to go to college here getting his degree in Elementary Education and end up teaching in the area. I am proud of my son and am so happy he loves our town as much as I do:)
I know Christmas was nearly a month ago (can u believe it??!) but I really wanted to share our holidays with you.
Most of you know I am a member of the Church of Jesus Christ of Latter Day Saints. You may know us by the young men you see wearing white shirts, ties and a little black name badge. These sweet young men come from all over the world and serve two years in an area sharing Jesus Christ with those they meet. We enjoy having the missionaries in our home and serve them dinner every Monday night. During the holidays it can be ard as they don't get to be with their famiies...this year we invited our missionaries over for Christmas Eve night...we played games and enjoyed a few treats!
The young man sitting between Dave and Emma is Elder Tubbs. He is from Provo, Utah and has been on his mission just a few months. Elder Moyle is in the white and is from Sandy, Utah. Please take time to watch this 4 minute video about his AMAZING great, great, great grandfather....it will bring tears to your eyes and inspire you to DO ANYTHING!!!!!!!
A few Christmas morning highlights....
YeS!! I got one of my FAVE perfumes....Bohemian from American Eagle:)
Dave and I didn't a lot for each other...well honestly he went way overboard on me. He is soooo sweet!! I had no idea he would get me much...I mean we had talked about it and decided to just spend on kids so I didn't get him a whole lot....but I did surprise him with his fave cashews:)
All Jacks wanted for his Birthday and Christmas was this sweet Buckle jacket!! Guess what?? He got it!!!
My sweet Emma received a BIG package from her sweetheart and found this darling Victoria's Secret purse inside. I can't wait to tell you all about the love of Em's life...that's for another post:)
Christmas night we headed over to Grams...the missionaries came along, too. Grams had stockings for both of them:)
Here is silly Grams!! Love this!!!
As you can see Christmas was sooo much fun!! We are truly, truly blessed with the most amazing people in our lives.
Here's a quick of a canvas I created for my mixed media class I am teaching at The Art Experience..."With All My Heart".
My class is based around all the things we find iin our hearts. Last week we talked about all things TRUE. We had a wonderful time. I am so thankful for the opportunity!!
Girls, I hope you enjoyed all the PHOTOS!! Photo Bucket is kind of cool with all the photo effects...but Blogger would be so much easier. I may have to pay the monthly fee like Kay suggested. I need patience!!! LOL!
Oh and one more thing...we are about to embark on an adventure that will create peace in our lives. I will share more when I can!!!!